Alpabeto ng Kalikasan is a one-of-a-kind alphabet book that features Philippine flora and fauna from A to Z.
Pinky, the Picky Butterfly
Pinky is a pretty, pink butterfly who only likes to drink the nectar of pink flowers! Does this sound like a picky eater you know? Find out how Pinky eventually learns that the nectar of different flowers are delicious and nutritious too!
Pinky, the Picky Butterfly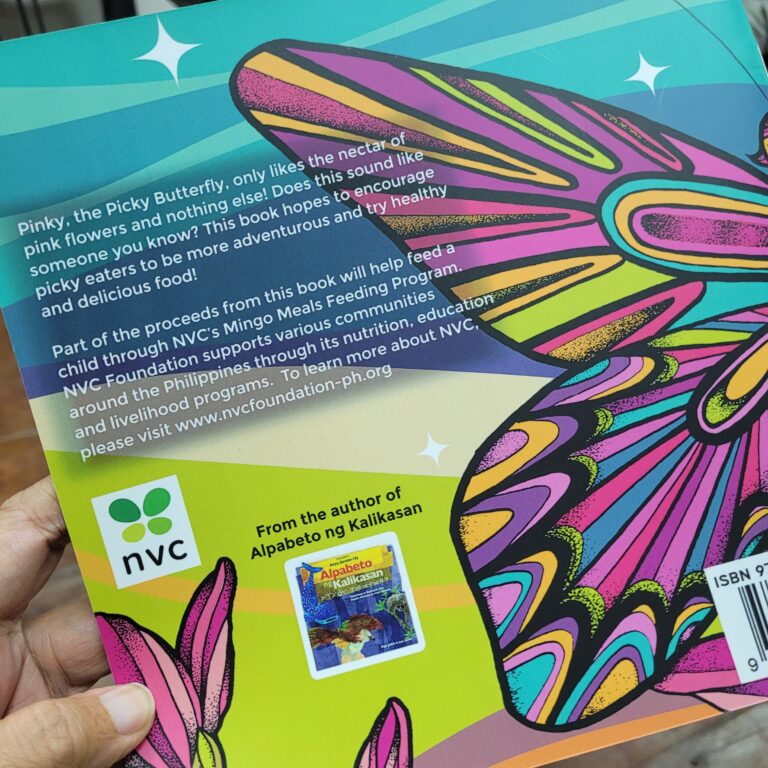 Children's Book Partners with Nonprofit Negrense Volunteers for Change Foundation Every night before bedtime, I read at least three books to my little girl. Sometimes,…
Read More
I wish I had this kind of alphabet book as a kid. But anyways, I'm just happy I get to share this books with my young godchildren. The illustration and prints are really nice. 😀 Perfect Christmas gift for young learners!

Jayson Celeste


September 21, 2020

As soon as I came across this, I was instantly curious about what they had put together. I was delighted at what I saw when it arrived. They captured not just the beauty of nature and wildlife in the Philippines, but the honest truth about how our way of conversing and connecting is not tied to only one language per se. It's a simple reminder to anyone of all ages to appreciate diversity in several forms. I look forward to sharing this with my future kids and nieces/nephews, my friends (lahat na)!

Martha Tan


September 10, 2020

Having this book in our hands makes me feel so proud to have the privilege of calling our beautiful biodiverse country as home. Even more proud to hand these out as gifts for our foreign friends to help them discover the beauty of our natural resources. So much thought and love put in this book. We love it!

Darling May A. Kidd


November 11, 2020

Alpabeto ng Kalikasan was a present for my little girl, but all the adults in the house ended up reading it! It's fun, informative (like the grass owl is Ngiw Ngiw - i didn't know that!), and the illustrations are beautiful. I highly recommend this book.

Mia Cabahug Wycoco


October 17, 2020